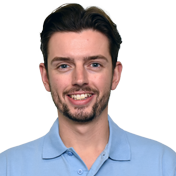 About me
Hi, my name is Joe and I'm a recently qualified Government Approved Driving Instructor.
At the young age of 30 (it is still young, promise!), I believe that I am extremely relatable to new, young and older drivers alike. I have always been a very relaxed, calm and patient person which enables me to create an ideal environment in which to learn.
I have undertaken extensive training with LDC over the past eighteen months, improving my knowledge of road safety and learning techniques, working very closely with my amazing trainer, Ella Burnett, who also happens to be my sister. We continue to work together, sharing ideas with each other, enabling me to be at the forefront when delivering my lessons.
I am passionate about helping people master the lifetime skill of being able to drive and how gaining the independence that driving brings, can improve the confidence of someone, as a whole.
Outside of work I spend a lot of my time playing and watching sport, listening to music, exploring the British countryside and wildlife, travelling to new places and indulging in food and drink.
Well I hope this gives you a brief idea about me so please feel free to click here to "Contact me"